Introduction
Rockfishing, ("rockcodding" or "bottomfishing") is one of the great fisheries along the California coastline. Whether it's a hopeful father and son searching for cooperative fish on the briny blue, or a seasoned angler looking for jumbo Cabezon or unsavory lingcod, rockfish rarely disappoint. Non-stop action, excellent table fare and unbelievable variety and color all are ingredients that make rockfishing an attractive and interesting fishery.
I first became interested in our local rockfish angling and made my inaugural trip to the Farallon Islands some years ago. It was fall of 1982. About the only charter boat that was targeting rockfish at that time was "Jaws", a fifty-foot Delta out of Berkeley Sportfishing. It was a gray, damp, misty day at the "islands", but the action was nothing short of sensational. Fish were literally flying over the rail that morning in numbers and varieties I had never envisioned were available off our coast. Two, three, and four at a time they came, flying out of the water and crashing onto the deck. Broad shouldered canary's, suicidal yellows and deep bodied, slimy boccacio filled huge burlap sacks. Frequently the cry for "gaffffff" was heard, only to be followed by a resounding thud and associated screams of "ling". We were limited out in no time and began the long tack home. Most had their catch filleted while we cruised to port, but I thought that such a fine load of fish must be displayed to mom and dad at home. Although my euphoria was quickly erased once the task of cleaning what must have been a #100 sack of fish overcame me (as well as the unfavorable look from my mom as I drug the bulging sack of denizens to the kitchen door) it was nonetheless a life altering experience. Several weeks later I jumped aboard "Jaws" again, and although the variety that day was not quite that of the previous trip, the jumbo lingcod were biting full speed and huge, bulging sacks were once again the rule. And yes, I received the same stern look upon returning home as I did the previous time. Nonetheless I was hooked!
In the years that followed, and with the addition of my own private skiff, I began to rockfish more passionately. In the winter, I'd forgo the anchor and shrimp baits ("Sturgeon Staring" as one my regular crew members calls it) for dodging swells at Pt. Bonita and pounding diamond bars at Fanny Shoals. In the spring, we'd leave at "O'Dark thirty" to avoid the inevitable afternoon breeze and load up on the coastal black and blues while tossing 1oz scampi's with our freshwater rods. We were but a few anglers that were targeting rockfish regularly, but the sport was definitely growing. Frequently I had anglers aboard who fished for more traditional quarry, salmon and bass for example, who were amazed at the unbelievable fishery found along our coast. We even got so involved that we had plastic, insulated coffee cups with "Catch the Wave" written on them as a way of distinguishing what type of fishing we were into.
In the years since those early days I've spent uncounted hours researching rockfish. The accumulation of article's, books, personal fish logs and associated data on the sport I have is absurd. What follows are my thoughts on rockfish and the techniques I've found to produce regularly. It's a sport, like many others, that continues to evolve. In fact the evolution of techniques and equipment is half the fun. There may be ideas that some may disagree with, and that will only serve my point that fishing, despite what your neighbor or co-worker may think, is more art than science. I hope that the information to follow will provide a foundation from which to start for some of you, or a next step for others who share an equally high appreciation for the sport.
Rockfishing Today
When I first began rockfishing, both rockfish and rockfishermen were looked upon as second-class citizens. Tackle then consisted of large, heavy sinkers, cue sticks for rods as well as long, monotonous rides on foul smelling charter boats. Thank heaven things have changed. Although the lengthy rides can still be part of the program, the broomstick rods and reels the size of volleyballs are definitely a thing of the past. Today's wise rockfish anglers are armed with ultralite, aircraft aluminum reels 1/4 of their predecessor's size. Featherlite, advanced composite rods have replaced the numb fiberglass sticks of the past. Nothing, however, has advanced the sport as much as the advent of "Superbraids" or "Spectra" fishing lines. Braids allow today's angler to not only fish lighter jigs deeper and more effectively, but has brought about a whole new world of sensitivity and finesse. This increase in sensitivity is nothing short of phenomenal. I can't tell you how many times anglers using braided line for the first time not only are amazed at how effectively a jig can be fished, but how subtle differences between the bottom and a cautious fish can be detected. Other than providing backing or a "topshot", monofilament line has little room in a rockfishermen's tackle box today.
Marine electronics have also advanced the sport as well. Affordable radar and navigational systems only found on super-stealth government vessels just a few years ago can now be purchased at most local marine supply stores. These units not only provide safer travel for the private boater, but also, when used properly, enhance the fisherman's ability to return to a productive area and improve the overall catch. The advent of the GPS chartplotter has brought a new dimension to the sport. In an earlier era, visual line-ups (if available) or numerical waypoints were necessary in order to return and explore a particular reef or ledge. Both were highly influenced by weather and sea conditions. Should you be relying on visual line-ups, your accuracy was only as good as visibility allowed. If it was foggy, you were screwed. Even as advanced as LORAN was for its time the signal accuracy varied widely, and those with CRT fishfinders had to deal with signal degradation once both units were operating. Today's GPS/WAAS chartplotters not only produce accurate numbers to within several feet, but also chart your vessel's movement and allow the you to return the exact position or make slight variations with superb accuracy.
Powerful color fishfinders have also become standard equipment. In fact, grayscale and paper units are just about obsolete anymore. These large, multicolored finders allow you to determine subtle differences in bottom make-up and spot mid-water species overlooked before. Units with a minimum of 500 watts will provide better coverage and detail and allow you to determine depth changes as well bottom hardness more effectively. The high wattage matched with a quality transducer will also produce a sharper picture while cruising and allow you to track the bottom for productive spots more thoroughly.
My good friend Art Roby, former captain of the Huck Finn, once told me of an early expedition to Cordell Bank. I call it an expedition because other than a compass and paper depth recorder, they were traveling blind. A young Art recalls the captain explaining what course to hold and then intently watching the compass and recorder. His instructions were to strictly follow the precise heading, watching the depth drop off the continental shelf and then climb back up the bank before waking the sleeping captain. Any minute variation in heading would have meant a failed trip and an updated resume for Art. My point is to be thankful we live in an age in which marine electronics are fairly affordable and when used properly, increase your catch.
Location, Location, Location
Obviously one key to successful rockfishing is finding areas that consistently produce fish. Unlike many nomadic fish such as salmon and albacore, rockfish can be found in areas that you can return to again and again. Rocks and ledges just aren't in the habit of moving! Likely habitat such as highspots, ledges or drop-offs can be consistently found and produce year in and year out. You will find, however, that certain areas have seasonal patterns to them. Many winter lingcod hotspots can be devoid of life at other times of year. You can also count on fish holding at different patterns on the same spot depending on weather and current. A great example is schools of voracious yellowtail rockfish. We will often see them holding mid-water, behind a large high spot, similar to how a trout may take cover behind a rock in fast moving water. They will continue to shift up and down as well as side to side with the current. Clearly the boat needs to be repositioned to keep pace with the moving school. The wise rockfisherman keeps a record of these events either in a waterproof notebook or the onboard chartplotter in order to take advantage of these patterns in the future. I keep a large binder that I log detailed information from each trip, making notes such as peak biting periods, currents and velocities, and lure size and color. Over time this information can establish patterns and trends that may be overlooked by the casual observer.
The Farallons
Most of my fishing has been along the Farallon Island chain. It can be a foreboding and intimidating place for many anglers, but when broken down into smaller segments, success can be quickly found. Most shallow water fishing occurs in the vicinity of either the south, or Main Island, or for the more adventurous, the North Island. The Main Island obviously attracts a lot of attention because it's a distinct visual line up, as well as providing shelter from the prevailing northwest winds. Unlimited rocks and reefs can be found on all sides and all that is needed is an adventurous spirit and a full tank of fuel to find cooperative customers. I have found that the north and middle islands generally hold better concentrations of fish. Whether this is due to reduced pressure, or better habitat, I'm unsure. The north island enjoys a smorgasbord of highspots and reefs and generally a more rugged bottom than the main island. Several excellent winter lingcod hotspots can be found to the southeast of the north island. The area surrounding the Middle Island or "Pimple", when open to fishermen, without doubt offers the most fruitful area within the island chain. Many shallow water reefs can found inside this area that hold volumes of school fish such as yellows, widows, black and blues. Outside this area is where some of our great lingcod fishing can be found. Every inch of bottom must be an unimaginable twist of rocks and reefs that Mr. Ling calls home. It is a tackle-grabbing place for sure, but for those who wish to come face to face with Mother Nature's reincarnation of the big bad wolf, it can be spectacular. Unfortunately, many highly productive areas such as Fanny shoals, the Soap banks and Cordell bank are currently closed to both sport and commercial fishing in hopes that a respite from anglers will reinstated decimated fish populations. All I can say is just keep your fingers crossed that someday these areas and fish will be accessible again.
Coastal
Obviously the coastal waters off California provide an unlimited area from which to target rockfish. Literally every harbor from border to border has excellent quality fishing water available. Find someone who's familiar with your area and pick their brain as to where they have had success. If such a resource is unavailable, purchase a NOAA paper chart of your local area and identify likely looking rocky areas within close proximately to your harbor. Make some notes and methodically stop at each one on your next trip, logging and recording those that were successful for future trips. Before long you'll have an excellent collection of productive waypoints to plan your next trip.
Going Fishing
Once you've decided what location to target, you neeed to ask, "How should I fish it? What should I use, and how much weight do I need?" If you are fishing aboard a local charterboat, most of these questions will be answered by your captain or crew. Should you be aboard your private vessel, you will need to solve the puzzle quickly, or be faced with returning home empty handed. Ideally, you've done some pre-trip planning and have an idea where your headed and what depth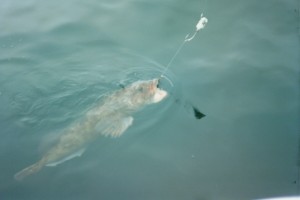 Why it pays to rig a trap hook
you will fishing. With that in mind, when I'm approaching an area, whether I'm familiar with it or not, I always have both my fishfinder and gps/chartplotter dialed in. Your fishfinder should be set at the appropriate depth range to allow you to fully scan any highspots or ledges, and the plotter on a detailed enough scale (I like 1/2 to 1/4 mile) to be able to accurately find and return over a likely looking spot. Frequently while traveling I'll run over something that looks "fishy"-a significant depth change, clear fish marks either along the bottom up high etc…If it warrants a second look, a quick turn and drop in rpm should put you back over it. I often use my boat wake as an indicator of my course, or certainly your chartplotter will put you on target. Your second look will reveal greater detail and if conditions look likely, set your drift. Should you fail to see indications on your fishfinder that look promising or find cooperative fish, make a note on the chartplotter as you may want return later should your original plan fall through.
If you determine a drift is in order, make several observations. First, determine which way the drift will carry you. If a distinct wind or current direction is evident your choice is clear. If you are uncertain, however, start dead center on the target and allow your drift to develop. When your direction becomes clear, finish the drift, pull up the lines and begin another drift passing directly over the high spot just covered. This gives you another look and time to make needed adjustments if necessary. Additionally, try to position the boat in the same direction and come to a complete stop before any fishing commences. This insures successive drifts will be similar to the first and allow you to work variations (outside or inside) without duplicating coverage. I also prefer to work uphill, that is to say from deeper to shallower water. I find anglers can maintain better contact with the bottom and offer a better presentation in this fashion. The logic here is that with a turn or two of the handle, you can stay in complete control of the bottom. If you're falling off, moving into deeper water, fishing in free spool is a necessity in order to maintain contact with the bottom as the water deepens. Most anglers find this more difficult to accomplish. Lines also tend to stay more vertical when working uphill and usually that leads to more fish.
Clearly if rods are straining, another drift is in order. If success was less than desired, try another drift by moving inside or outside to determine whether cooperative residents maybe nearby. Patience is important. Many years ago we were pounding several reefs west of Pt. Reyes. On an early February trip we had scratched just a handful of quality fish through mid morning. Near the end of one drift, one angler's leader had tangled and I moved forward assist him, while I encouraged the other anglers to continue fishing. We had clearly drifted well past our "highspot" and into a non-descript, gravel plateau, but I found no need for them to retrieve their gear. Moments later I glanced over and to my surprise found both anglers struggling to maintain control while the rod tips pumped violently. Minutes later a pair of #17 Lingcod were thrashing about creating havoc on deck. We promptly returned the flat plateau and threw in a dozen more "sweat hogs" in the next several drifts. Remember, fish are where you find them!
Rods and Reels
Other than insuring that you return to the dock safely, tackle selection is critical to your success. A poor choice in rod and reel selection can definitely influence your success. Rarely will I venture out without several outfits matching the conditions I expect to encounter. I will usually carry a minimum of three outfits. On the light side, I prefer a conventional rod with a rating in the #5-15 range, matched with a lite revolving spool reel filled with your favorite #20 braid. A lite spinning outfit may also be substituted to work light jigs under 1oz. For a middle outfit, I like the small 200 series Newells loaded with #30 braid and a matching rod with a rating from #10-20. My heaviest outfit usually consists of a 300 series Newell, #50 braid and an equivalent rod in the #15-30 class. I'm partial to the Newells because their combination of lightweight, high gear ratio's and comfortable handles allows me to fish all day, fatigue free. You will also find rods in the 6-7 ft range with an even, parabolic action to be superior over a "livebait" style rod. Traditional live bait rods usually have soft tips and stiff butt sections, characteristics that I find too unforgiving for this type of fishing. Look for a rod with an even, parabolic action as it will control your jig or sinker with less effort and in superior fashion to a livebait stick. Additionally, it will provide the needed cushion in the butt section to absorb violent head movements of an aggressive lingcod.
As I mentioned earlier, braided line has revolutionized the sport of rockfishing. One of its advantages is its ability to transmit with great accuracy whether your jig has found its way into a rock and become snagged. I usually advise anglers that immediately upon feeling any resistance on the rod tip, to stop any upward movement. Should a fish have made contact with the lure, the telltale signs will be forthcoming and the battle may ensue. If, however, your jig has found itself into unwelcome territory, i.e. you're snagged, immediately drop the rod tip to allow the weight of the jig to fall and release the snag. Applying any further pressure with only do you harm, as it will further drive the hook or jig into an already unfortunate situation. Should the drop back maneuver be unsuccessful, a few moderate snaps of the rod tip will usually shake it free.
Unfortunately, braids have one shortcoming in that they are susceptible to nicks and scratches that occur while fishing around bottom structure. These imperfections will dramatically reduce your breaking strength and result in missed opportunities. In all situations, a short topshot of monofilament is advisable as it withstands the day-to-day abuse while maintaining it original strength better than the braid. My preference is to tie a small #50 black barrel swivel to the end of my main fishing line, add 3-4 feet of 20-40 clear monofilament, then finish off with a #50 black cross-lock snap. The barrel swivel also provides an excellent place to grab and lift your fish on-board when the situation arises. This arrangement affords me the ability to change lures quickly and mitigates any significant damage to my main line.
Terminal Tackle
The array of artificial lure's available to the local rockfisherman is virtually limitless. Leadheads, swimbaits and iron/metal jigs in hundreds of colors and patterns can be used with different degrees of success. Your choices aren't limited to saltwater tackle either. Browse a local tackle shop that caters to the black bass enthusiast and you'll be amazed of the crossover possibilities. In fact, I find it nearly impossible to walk out empty handed after venturing into these shops!
Over the years I've probably experimented with most types, and certainly have favorites. They all have similar characteristics, however, that in my mind are critical to their effectiveness. Most importantly they must be able to be fished effectively. Presentation is the key. A productive jig that's too lite and unable to hold the bottom is practically worthless. Conversely, a 16oz. Diamond bar bounced along a high spot on Colorado reef will also prove fruitless even if it's the only jig that will stay down! An excellent example is a chrome Salas 6x Jr, a particular favorite in deeper water. Wide-bodied and throws tons of flash. Old, cantankerous rockfish love them. Unfortunately, once it hits the water it tracks side to side like a spastic butter knife and takes forever to reach the bottom. It certainly has a place in my tackle box, but only when a slow drift is present.
I find that bright colors, other than chrome, such as florescent green, pink and chartreuse are far less effective than "duller" colors such as grays, browns and greens. This may be due to the fact that many bright colors fade rapidly as they fall through the water column. The duller colors likely create a distintive silhouette, which is easier to locate. Regarding color, I believe its importance definitely falls behind that of presentation and confidence. Many have first hand examples that are completely contrary and have a favorite red/white candy striped jig that has "slayed 'em for years". All I can suggest is to keep an open mind the next time they just aren't biting your favorite. No doubt that under different conditions, whether it be water color, available sunlight or the presence of a particular baitfish or feeding pattern, some color patterns definitely produce better. Another example is orange. Frequently during the winter months, small mottled orange jigs produce better than other traditional favorites. I have seen winter days where school fish nearly stripped the paint off a hand painted orange jig while other colors were met with mediocre success When it comes to color, find your favorites and fish them with confidence.
For shallow water fishing (under 60ft) small 1-4oz leadheads matched with either a twin-scampi tail or your favorite swimbait are consistent producers. They produce year-around, snag less than other metal jigs and come in a variety of colors. Most patterns matching our local baitfish such as anchovy, sardine and jacksmelt are consistent producers. Root beer and "motor oil" shades also have been longtime favorites. Although it resembles few fish found locally, plain old white, such as the stripers fisherman's favorite, the "Bug-eye", can also be a seasonal favorite and is an excellent choice when juvenile octopus are present (usually determined by the regurgitated bodies found on your deck!). White may also be successful because almost all fish have white belly areas and as a gamefish looks overhead for a meal, would resemble most prey. I also frequently add a small "trap" or treble hook midway through the rear of the bait to hook the occasional "shopper". A small strip of squid can also be added for extra scent and movement. Small metal jigs or "jewelry" like the Crippled Herring, Strata spoons or small Dungeness Stingers in the blue/red and green/yellow patterns are also consistent producers. The Crippled Herring can really be a deadly, as it tumble's as it sinks, throwing off a tremendous amount of vibration and reflection. Incidentally, the first thing I do after opening all metal jigs is to cut the stock treble hook off and replace it with a 2/0 or 3/0 stainless Siwash style hook. The single hook results in fewer snags, equally as many hook-ups and facilitates the release of juvenile fish with minimal harm. In fact, with the unbelievable number of lingcod we are currently finding, going barbless makes a lot of sense so as not to harm the jackpot fish of tomorrow.
Many of the styles and patterns used in the shallow areas also produce in the mid-water depth (60-120/180ft) arena as well, but in larger, heavier profiles. Large Scampi twin-tails and Kalin single tails again in the darker colors are consistently effective. Leadheads in the 3-8oz range will cover most situations, but occasionally up to a 16oz may be needed. A 4-6oz Dungeness Stinger in the previously mentioned colors are absolutely deadly here. School fish holding up high will hit these on the sink and should it make it to the bottom, attract all varieties of rockfish. They sink like a torpedo's and frequently need a feathery touch to the spool to allow and interested fish a chance on the drop. When calm conditions are present, the Stinger will also reach about as deep of water as fishable with rod and reel as well. A single chrome Diamond jig is another jig I'd never be caught without. Available in weights from 1-16oz, they are consistent producers year around. Again use as lite of weight as possible. Using an 8oz leadhead in 25 feet of water "because the drift is fast" is not advisable. It just doesn't resemble what an injured or hapless baitfish would look like and your results will reflect that. As an alternative, tie an in-line sinker of 1-4 oz several feet above the lure if the drift isn't allowing you to fish lighter jigs effectively. This allows the lure to be presented in as natural fashion as possible and remain close to the bottom.
No outfit would be complete with out the addition of a "teaser" or "stinger" hook. The teaser is a second artificial lure that is tied 18-36 inches above your primary lure. Excellent choices for teasers are small hoochies, pre-tied commercial shrimp flies or small, single twister tails. One of my favorites is a small (size 20) Golden Bait glow in the dark hoochie in the Sardine color. A small mylar insert and 3/0 Siwash hook completes the arrangement. Although there are many variations, my preference is to attach the teaser via a small dropper loop. A 4-6 inch leader of stiff mono finished with a perfection knot threaded loop to loop with the dropper, or directly to the barrel swivel connecting your main line and mono topshot works well. A small strip of squid can also be added for additional scent. It's amazing how frequently large rockfish or Lingcod pass up the larger lure for the unsuspecting teaser or a small hooked rockfish involuntarily becomes the recipient of a hitchhiking Lingcod!
Fishing the jig and teaser combo effectively is definitely an unappreciated art. Certainly rockfish will never make anyone's list of the worlds ten most challenging sportfish, but there is definitely a way a skilled jig fisherman goes about his/her business. It begins with a cast. Not random by any means, a soft underhand lob down wind so as the jigs sinks it finds the bottom just before the line becomes vertical. This maximizes the time the jig can be presented properly along the bottom. Lines scoped out horizontally fish poorly and are prone to frequently snagging. As the boat drifts along continuous depth adjustment is made to keep the jig working along the bottom. Each time the rod tip is dropped the jig should hit the bottom, sending vibrations of a wounded baitfish to those nearby. Immediately upon contact, the rod tip is swept upward, resembling a escaping or injured fish. At the top of the swing the jig is then dropped back towards the bottom, fluttering along in hopes of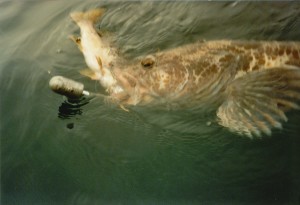 Hitchiker on board, gaff carefully!!
enticing an unsuspecting fish. It is critical to maintain contact and avoid any slack on the drop, as the majority of strikes will occur here. In fact you can usually bet that any resistance on the upward sweep is either the bottom, a snagged fish, or a strike that was missed on the sink. Strikes usually are indicated by a hesitation on the drop. At this point try to resist an aggressive rod set and instead apply steady pressure by lifting the rod tip. If the telltale signs of a fish are felt, begin working the fish up off the bottom. For large fish, getting a handful of cranks on the reel will prevent them from returning into the rocks and a possible snag. If, however, no headshakes or vibrations are felt, immediately drop the rod tip. You're snagged! Driving the jig into the rocks with a powerful hook set will only insure that you won't retrieve your precious jig. If you're using spectra, some slack line and few mild snaps of the rod should be all it takes for the jig to fall harmlessly out. If several attempts fail to free the jig, use your boat and pass directly over the snag. If you're still hung up, continuing past the snag will release all but the most stubborn hang-ups and fishing once again can commence. Remember to inspect your line regularly for weak spots and retie if any are present.
Bait Fishing
Using bait, whether it is alive or dead, is definitely a great way to "match the hatch" and can really fill the box with quality fish. Obviously properly presenting a regular food source to your quarry puts the angler in an excellent position to score. Those who venture out of the San Francisco bay area have the advantage of purchasing live anchovies, and occasionally sardines, usually available from April thru September. Live bait receivers are currently located in the Berkeley Marina and Pier 45 along the San Francisco waterfront. If your vessel is equipped with a re-circulating live-bait tank, purchasing a scoop on your way out is an excellent way to insure a full day of action. The traditional three-way live bait leader used for halibut or striped bass fishing is the most popular leader. Commercially tied versions work well, but I prefer to tie my own with some slight modifications. Start with an 18" piece of 15# mono with a small snap on one end and the other attached to a 2/0 three-way swivel. 18" works well because it keeps the bait working above and away from potential snags, yet close enough to attract any interested party's. To the other end attach approximately 3' of 20#-25# mono and finish with a small wire hook via a perfection loop. Wire hooks not only allow the bait to swim more naturally than traditional live bait hooks, but will also "open-up" when snagged, allowing the entire leader to be retrieved. A 2/0 Eagle Claw L182f fits most applications, but more importantly, be sure to match the size of the bait. Carry an assortment of 1/0 to 4/0 to cover most situations. Since the sinker becomes snagged more frequently, the lighter mono will break before the bait leader and allow quick reties without replacing the entire leader. Nose hooked baits usually out fish "collar" hooked baits, but feel free to use your favorite style. Required weight will vary with depth and drift, so carry a complement from 1-8oz.
Another advantage of live bait is how easy it is to fish. Drop your sinker to the bottom and begin working it along the rocks with gentle lifts of the rod tip. Keep track of the bottom by continually adjusting your depth. When a bite occurs, refrain from the Marlin style hook-set. Unlike jig fishing, your hook is in the forward section of the bait and a premature and aggressive set will only result in a shredded anchovie. When a bite is detected, wait until weight is felt well onto the midsection of the rod before setting up. Turning the reel slowly, imitating an escaping baitfish, can also trigger an aggressive strike from an otherwise reluctant fish. Blackcod are famous for this. Nibble after nibble until they sense their meal is escaping, and then a wicked strike. Something else you'll frequently see in shallow water is several other fish following your hooked fish near the surface. They're usually looking for your bait or other morsel to separate from the hooked fish and pick-up an easy meal. This is an excellent opportunity for your fellow anglers to drop a bait in and hook-up.
Dead bait can also be, well, deadly and result in larger fish as well. Dead bait leaders come in many different variations than their live bait cousins however. For shallow depths, a heavier version of the three-way, live bait leader works well. #40 mono should be substituted along with replacing the single wire hook with two treble's, one hard tied and the other soft-tied, or snelled, above the other. This will allow the hooks to be properly adjusted so the bait looks as natural as possible. The forward hook should be placed upward thru the lower jaw and the other in the mid-section about even with the vent. Favorite baits include small sea trout and rockfish, sanddabs, mackerel and "fresh" Octopus. Fresh, referring to store bought or, preferably, recently regurgitated. Often a hooked fish will spit up their recent meal near the surface or once on board. An octopus found in the manner is sure to produce again and can account for several more fish. Depending on its size, it should be threaded on a matching lead head with a short trap hook or on the twin treble hook leader and dropped immediately back down!
We've also had excellent luck over the years using dead baits and large leadheads for those interested in strictly jumbo rockfish and lingcod action. Heads in the 16-24oz category are rigged with 10-14 inches of #50 mono tied directly to the eye and finished with a large 8/0 bronze treble. The heavier leads are needed to reach the bottom due to the buoyancy of the larger bait. Again, the large single hook on the leadhead is threaded thru the lower jaw of the bait, with one hook of the treble buried in the midsection. Because the lower jaw of the bait is secured by the forward hook, some slack in the rear treble is acceptable. The advantage of this variation over the three-way rig is two-fold. One, frequently on long drops, the leader on the three-way will wrap around the main line. Unfortunately it's impossible to determine this until it's reeled up at which time the entire drift has been wasted. Secondly, it can be worked several cranks off the bottom avoiding potential snags without sacrificing success. Strikes are surprisingly quite subtle with little more than a light tap following by a heavy weight coming on to the rod. A firm and deliberate hook set is needed here in order to pull the hook(s) out of the bait and securely into the fish. Apply steady pressure and have an experienced gaff waiting. Often a lingcod will grab your bait but have failed to find the hooks. These "Hitchhikers" have simply found a meal and aren't interested in letting it escape. They will continue to hold on all the way to the surface, but if lifted out of the water, will unfortunately let go. Make sure your gaff man understands this to insure the proper technique is applied. Like all large bottomfish, avoid aggressive rod pumping and instead maintain steady pressure all the way to the boat. If you plan on keeping your fish, apply the gaff before the fish breaks the surface. You may not land the quantity your fellow jig angler does, but by the end of the day you'll have an excellent box of quality fish.
One note on quality. With the emphasis on only taking what you can use, try to make a habit out of bleeding every fish brought aboard. A small cut across the gills on each fish improves the quality of your catch and insures some excellent tasting fillets in the future.
Lunar Cycles and Weather
Anyone who has spent any time fishing our coastal waters knows the importance weather conditions are to the success or failure of a fishing trip. Notwithstanding any safety considerations, it's just not much fun when you and your boat are tossed about like the "Minnow" in Gilligans Island. Likewise, if your bait of lure is being whipped about it's far less likely to attract any biters. After charting every rockfish trip over the last 22 years, I've concluded that there are definite conditions that produce better scores than others relating to lunar stages, tidal movements and swell conditions. Let me preface my comments by saying that to every rule there are exceptions and fishing is by no means a science. I'm sure some will have experienced action that contradicts my findings, but over hundreds of rockfishing trips, this is what I've found.
Lunar cycles directly influence both tides and currents in our area. Full and new moons coincide with the both the highest high tides and the lowest low tides. These periods peak in December and June and are most mild in March and September. For fishing purposes, we are primarily concerned with the velocity of current, and far less with the particular highs and lows. Moving water stimulates activity creating hungry fish. Most of us rockfish when the weather's good and don't have the luxury of picking and choosing our trips based on particular currents. That said, too little movement usually means less fish than too much current. With little movement the fish are neither stimulated nor are you covering sufficient ground to expose your offering to potential biters. The more ground you can effectively cover, the better off you will be.
Statistically speaking, there are lunar phases that consistently produce better than others. I have found the best bites usually occur 2-5 days immediately after the full moon and continuing thru the third quarter or neap period. Conversely, the poorest fishing usually occurs 2-6 days preceding the full moon. Now does that mean that on an eighty-degree day in October and a variable wind forecast I'll be staying home to repaint the bathroom instead of swinging some diamond bars offshore, absolutely not! But if you can plan your trip around these peak periods, you should find solid action.
Clearly weather watching is an integral part of pre-trip planning. A safe return must be the primary consideration in any fishing trip. Should conditions look favorable for safe travel, determine how tidal and weather conditions will influence your fishing. Use your tide book to make corrections based on the location you expect to fish. Keep in mind that tides/currents are prediction, not absolutes. If you arrive at your location and the current is outgoing when the book said incoming, make the appropriate adjustments.
Along with making travel uncomfortable, strong winds can also make drifting difficult. Should you find the wind pushing you along too quickly, placing your engine in reverse or the use of a sea anchor are options to slow the pace and control the drift. The sea anchor generally gets the nod as it works unattended and can be placed at different locations in order to get the desired result. Unfortunately, neither option can mitigate a large swell condition. Swell height in excess of 8 feet can present many problems for those fishing both shallow and deep water. In water less than fifty feet, large swells will just about shut action off completely, not to mention creating dangerous inshore conditions. Lumpy conditions that occurred several days before can still be creating chaos inshore. Big rollers will drive all but the most stubborn fish offshore into more favorable conditions and reduce visibility enough to shut a bite off. If deeper, rocky habitat is nearby, several drifts should be made to see if the local residents have found the undisturbed bottom more to their liking. Recent heavy rainfall can also impair nearshore visibility and slow fishing. Watching the weather in the days preceding your trip can pay dividends and is an integral part of your fishing success.
Deepwater fishing can also be hampered not from the inshore surge, but by making it difficult to stay near the bottom with any consistency. Imagine your jig or bait flopping around in 8-10 foot intervals while the boat moves up and down like a cork–not very realistic is it? About the only option is to try to mitigate the movement by dropping the rod tip on the rise of the swell and raise it on the fall. It creates a lot of extra work, but it may be your only option on a day with big rollers. Understanding your local weather will insure both a safe return and quality fishing.
Conclusion
In recent years rockfish have come under the close watch of fishery managers, anglers and environmental groups. Because most rockfishes grow and reproduce so staggeringly slowly, high commercial catches of the past have dramatically reduced today's populations. Prior to 1981, the bag limit on Lingcod was ten with no size restrictions. We are now on the brink of finding ourselves limited to one fish greater than 30 inches and limited access due to depth and seasonal closures! Obviously, there's little room for additional cuts other that a complete closure, which would be catastrophic to a host of communities, businesses and individuals. To add insult to injury, several of the groups and agencies who had been appointed to watch over our fisheries, many of which should receive an "F" grade, continue to be responsible for our future. Today's sportfishermen now find themselves battling legal issues more than fish. Don't be naïve, many radical environmental groups would prefer non-fishing zones instead of environmentally friendly sportfishing. Groups like the Coastside Fishing Club and the Recreational Fishing Alliance have taken these groups and their extremist ideas head-on, but will continue to need support from sportfishermen to allow us to keep fishing. Please support the efforts of these organizations to insure rockfish will continue to provide an exciting fishery for years to come.
Darrell